Peninsula Paddlers Activities Postponed for 2021 – 2021 January 12 Hello Paddlers; this Notice is to inform you that at...

In 2008, club member Judy Luffman, donated a beautiful award to be presented annually to the club member who best...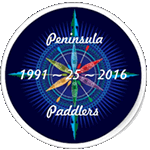 Recent Posts
Please be advised that as of Spring 2017 all paddlers are required to wear a life jacket.